Pennsylvania's Bike County Awaits
When it comes to bicycle tourism in Pennsylvania, Erie County leads the way with its many great destinations, assets and natural beauty. Erie is the only county in Pennsylvania with three official BicyclePA State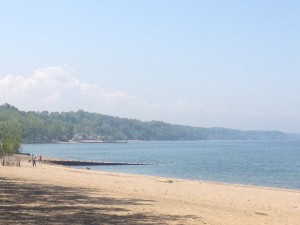 Routes and three national bike routes. The national bike routes include: 1.) the Northern Tier (4,265 miles), our nation's longest route 2.) the Underground Railroad (2,008 miles) and 3.) the Underground Railroad Spur (153 miles). We'd be remiss if we didn't tell you that Coastal Living Magazine has ranked Erie's Presque Isle State Park's multi-purpose trail fourth on its list of the 18 best bike rides at beaches. Also, make sure to check out the Bayfront Bikeway, a 9 mile multi-use path that runs along the lake connecting many destinations from the Lake Erie Arboretum at Frontier Park to Penn State Behrend's campus.
The future of biking in Erie is bright thanks to developments like the Erie-to-Pittsburgh Trail, which is slated to be approximately 270 miles long when completed. The trail will connect Erie and parts of New York State to the Great Allegheny Passage (GAP) trail in Pittsburgh. From Pittsburgh, the GAP trail joins the C&O Canal Towpath, creating a continuous 335 mile long trail experience to Washington, D.C. In total, the three trails will connect to form an approximately 705 mile system from Erie to D.C. Even bigger and bolder is the envisioned Industrial Heartland Trail – a multi-state 1,600 mile world-class trail system that will attract visitors from across North America and around the globe.
Erie's destinations are as great as the views you'll experience riding along the Lake Erie coast and throughout the county (Erie sunsets are some of the best on earth). In downtown Erie, you can catch a baseball game at the Seawolves' Jerry Uht Park; enjoy live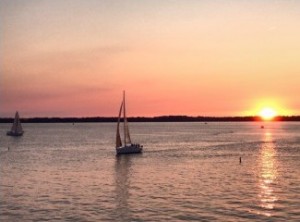 entertainment like Cirque du Soleil or an Erie Otters hockey game at the Erie Insurance Arena; and attend a show, like an Erie Philharmonic concert, at the historic Warner Theatre or Erie Playhouse. For some comedic relief, there's JR's Last Laugh Comedy Club and for another kind of catharsis, stop by the Erie Art Museum and admire the artwork. You'll also find that Erie is a prominent gem in Pennsylvania's crown of rich history. There are many historic developments and sites to explore, like the Flagship Niagara, a towering tall-ship from the War of 1812 located at the Erie Maritime Museum.
All of Erie County is a must-see with its many wonderful destinations and great assets. The County is home to the oldest and largest Concord grape-growing region in the world, as well as the largest grape-growing region east of the Rockies. The town of North East might as well be called Wine-Country, USA! For winery tours and other bicycle adventures in North East, contact the friendly-folks at Lake Country Bike. The joys of visiting and relishing in the small-town charm can also be found in places like Corry, Edinboro, Waterford, Girard, Lake City and the many other municipalities. You'll discover there's always amazing wildlife waiting to be seen on and in Lake Erie, French Creek (Help save the hellbender!), and Presque Isle – a bird lovers' paradise and one of the most visited U.S. state parks. There's even world-class fishing, so if you're in need of some calories after all that biking, you might find that Lake Erie perch and steelhead are just right for satisfying your hunger pangs.
Speaking of food, it's the fuel for those ever-churning, calorie-burning legs of yours. Erie dining experiences range from classic dinors (that's how we spell it here) and old-fashioned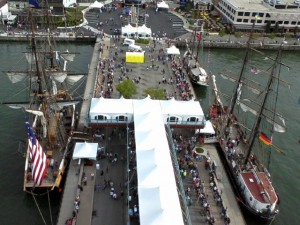 home-cooking, to an array of ethnic and fusion cuisines. While it's too difficult to name just a few Erie restaurants and eateries as the best places to dine, with the help of Yelp, Urbanspoon and GoErie for reviews, you'll be able to find what's right for you. There's also a nearly endless number of delicious, national award-winning local and regional wines and craft beers to choose from. And whether you're spending a night, a weekend or even longer in Erie, you'll appreciate the many bed and breakfasts, hotels, campsites and other lodging that's available.
What are you waiting for – it's time you take an adventure through Pennsylvania's bike county!